About Us
---
The premier outlet for custom-designed iron entry doors
Why Choose Abby?
---
Florida-Hurricane Certified Doors
Our doors are Florida certified – one of the most stringent building codes in the USA
Sign of a quality product from a committed company
Longest Warranty in Industry
10 year warranty on doors, 5 year warranty on finish. The warranty speaks for itself.
One of the longest warranties in the industry
Easy Pricing, No Hidden Fees
Any design at one flat price, Clear glass, weather stripping, threshold – all included
Additional items are available
Proven Track Record
We have experience in all project types: residential, commercial, religious and historical buildings.
We can accommodate special requirements
Superior Craftsmanship
12 gauge steel construction (thicker than 14-16 gauge)
Handcrafted (not machine cut) scroll work with 5/8" solid-steel.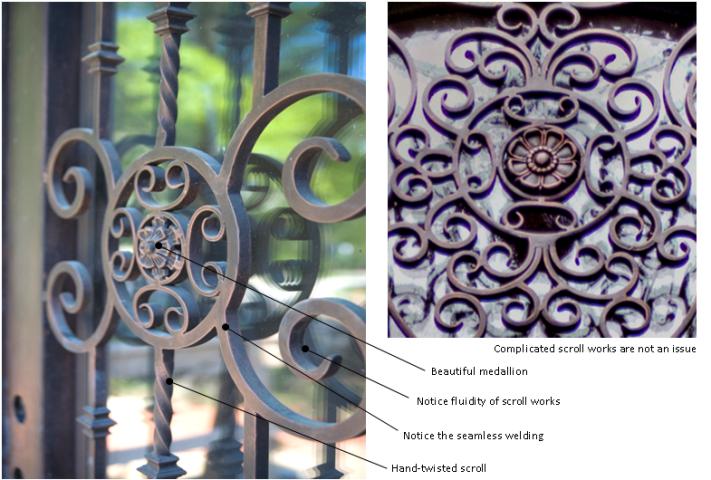 Abby Door Solutions is the premier outlet for custom-designed iron, wood and glass entry doors, blows the doors off our competition with our superior craftsmanship and proven track record in the community.
Our 10-year warranty is longer than any of our competitors in the industry, and provides our clients with extra security when choosing us to outfit their residence or commercial property. With no hidden fees, we offer flat rates on all of our designs, as well as additional items, such as weather stripping and thresholds. Additional customization is available on each of our products. Anything we can do to ensure that your vision and design goals are reached and surpassed we will do!
Abby Door Solutions is experienced in all types of projects, including religious and historical buildings. Our track record and project history speaks for itself, and the enduring quality of our products can't be understated. Our doors are certified to meet Florida design and structural standards, meeting some of the strictest building codes in the U.S. All of our scrollwork is handcrafted and – with 12-gauge steel construction – provide strength and resilience in addition to their aesthetically pleasing and stylish design.
Contact us today for a free quote on our products find out why so many people turn to Abby Iron Doors for all their customized entry door needs.